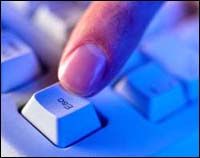 Below you'll find a compilation of answers to questions we commonly hear from customers. If you cannot find what you're looking for, please don't hesitate to contact us. We want you to have the information you need to get the final result you want.
What kind of work does our store do?

Copy Services - Our high-speed digital presses can produce copies efficiently and economically whether you provide hard copy or bring in digital files on disk. Our state of the art production duplicating equipment allow us to deliver work quickly and efficiently.

Printing Services - From one-color to full-color printing, our store has the capability to meet your needs. From short run to long run, we can offer a solution that will be just right for you.

Finishing Services - We can cut, perforate, laminate, score, number, fold, collate, saddle stitch, bind, and just about any other bindery process you could ever need.

Design Services - We utilize the latest design technology available in order to offer a full range of design services. If you need a brochure produced, we can work from your camera ready copy, use the files you provide on disk, or design your brochure from scratch.

How do I go about getting an estimate from you?

Simply use our online estimate request form by clicking here. Otherwise, the best way to ensure that we get all the information necessary to do an accurate quote is to give us a call and speak with one of our customer service representatives.

What if I need business forms, big color prints, or labels?

How long will it take for you to complete my order?

Every job is different. Some jobs can be produced in minutes while some may take several days to complete. Let us know when you need your job completed and we'll let you know if it can be done. We go to great lengths to meet even your most demanding timelines.

What is the best file format for submitting a document for printing?

The Portable Document Format (PDF) is generally the preferred file format for submitting a document for printing as it works with virtually all professional printing and digital output devices. By design, a PDF file incorporates the information needed to maintain document consistency from system to system. Most other file formats such as Adobe InDesign, Illustrator and Microsoft Word are easily converted to PDF format.

How well will what I see on my monitor match what I see on paper?

The technology of design, layout and printing has come a long way to the point where much of the work is done in a WSYWIG (What You See Is What You Get) digital environment. However, there are sometimes noticeable differences in color calibration and spatial conformity from monitor to monitor and consequently from screen to print.

The process for minimizing any variance begins with adjusting your monitor for optimal color and clarity according to the manufacturer's recommendations as outlined within its product manual or website. Doing this will alleviate a number of potential issues.

Beyond that, for the greatest conformity in color from screen to print, there are tools available that will ensure exact color calibration. Perhaps you have already invested in such a tool. If so, let us know what you use and we'll work with you to achieve the best results. If you are considering investing in a color calibration tool, talk to us first and we'll be happy to offer our advice.

What is a proof and why is it needed?

A proof is a one-off copy of your printed document used for visual inspection to ensure that the layout and colors of your document are exactly how they are intended to be. A proof is made prior to sending the document to the press for final printing.

Typically, we will produce a proof that will be sent to you online in PDF format or on printed paper, which can be either viewed in our store or delivered to you in person. For multiple-color jobs, we can produce a proof on our output device to show you how the different colors will appear on the final product.

Your approval on the final proof is the best assurance you have that every aspect of our work and your own is correct, and that everything reads and appears the way you intended. Mistakes can and sometimes do happen. It benefits everyone if errors are caught in the proofing process rather than after the job is completed and delivered.

What is the difference between coated and uncoated paper stock?

Uncoated stock paper is comparatively porous and inexpensive, and is typically used for such applications as newspaper print and basic black-and-white copying. Coated stock, by contrast, is made of higher quality paper having a smooth glossy finish that works well for reproducing sharp text and vivid colors. It tends to be more expensive, however.

What is halftone printing?

Halftone printing converts a continuous tone (solid areas of black or color) photograph or image into a pattern of different size dots that simulate continuous tone. When examining the page closely, you will see a series of dots spaced slightly apart. At a normal viewing distance, however, the spacing between dots becomes essentially invisible to the eye and what you see is a continuous tone.

What are Pantone colors?

Pantone colors refer to the Pantone Matching System (PMS), a color matching system used by the printing industry whereby printing colors are identified by a unique name or number (as opposed to just a visual reference). This helps make sure that colors turn out the same from system to system, and print run to print run.

What different types of materials can be used for labels?

Materials for labels and their application include:

Paper, Uncoated: Use where you need the label to be easily written on by hand or printed on by machine.

Paper, High Gloss: Use when you need good printability. Keep in mind that it cannot be written on easily by hand.

Vinyl: Use vinyl for outdoor environments, or if applying a label to a vinyl surface.

Acetate: Use when the label needs to be transparent.

Mylar/Polyester: Best for applications where the label needs to be applied to an object with sharp, angular corners.

What are the types of bindings I can use for multi-page projects?

Some of the common methods of binding books and other multi-page documents include:

Perfect binding: Gluing the outside edges of the pages together to create a flat edge.

Saddle-stitch binding: Using staples along the folds of the pages to bind them together.

Spiral binding: Wires in a spiral form threaded through punched holes along the binding edge of the papers. Allows the document to lay open flatly.

Plastic comb binding: Similar to spiral binding but using a tubular plastic piece with teeth that fit through rectangular holes punched into the binding edge.

Three-ring binding: Holes are punched into the pages and fitted into a binder.

Case binding: Sewing the pages together and then attaching them to a hard cover.